Upcoming! Japanese sharpening demonstration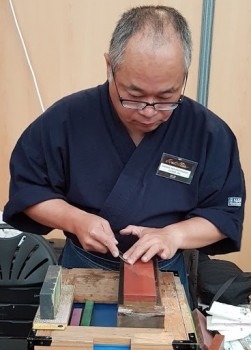 UPCOMING EVENT ! SHARPENING DEMONSTRATION
Thursday, November 14, from 3pm to 6pm
18-20 rue Coquillière – PARIS 1er

We will be happy to welcome Master Iwashita of Naniwa Kenma, demonstrator and teacher of traditional Japanese sharpening.
To discover this savoir-faire and enjoy this exceptional meeting, bring a Japanese knife to sharpen. The master takes care of everything!


PROXIMO EVENTO ! DEMOSTRACION DE AFILADO
Jueves 14 de NOVIEMBRE de las 3 a las 6 de la tarde
18-20 rue Coquillière – PARIS 1er

Estaremos feliz dar la bienvenida al Maestro Iwashita de Naniwa Kenma, demostrador y formador de afiladura tradicional japonesa.
Para descubrir este arte y aprovechar de este encuentro excepcional, traigan un cuchillo japonés para afilar. El Maestro se encarga de todo!